Emboldened by the success of its home-grown M-PESA mobile payment framework, Kenya is now set to become Africa's tech giant with even Google taking notice. The US Internet behemoth has just launched its own cashless payment system. The pre-paid Beba card allows holders to hop on and off Nairobi's minibuses – the infamous matatu.
Those same unruly buses inspired a local entrepreneur to replicate the hair-raising experience Nairobi commuters are subjected to in a videogame. Players use their mobile phones to steer a matatu at breakneck speeds through the capital's chaotic traffic, scoring points as they avoid pedestrians. In a matter of weeks the game had been downloaded a quarter of a million times by users in 169 countries.
Nairobi has embarked on a quest of its own: Africa's Savannah Valley is to become the world's premier hub for the development of mobile Internet technology. Already home to the fastest-growing mobile phone market globally, Kenya aims to cash in on Africa's telecom revolution. According to the World Bank, the continent now boasts over 650 million mobile phone users, making it a bigger market by subscriber numbers than either the United States or the European Union. In Kenya, mobile phones account for close to 99% of Internet traffic with a growing middle class increasingly turning to the web to access everyday services and small businesses setting up mobile-friendly websites to offer products and services. Mobile e-commerce is expected to grow at annual rates in excess of 10% across Africa.
US management consulting firm McKinsey & Company calculated that while presently the Internet contributes only about 1% to Africa's GDP, this number is set to grow six-fold over the coming decade. However, the IT sector balloons unevenly across the continent. Kenya and Senegal are ahead of the pack and derive around 3% of their national income from Internet related business – on par with Germany and France. At 0.8% of GDP, Nigeria's IT economy is still in its infancy and struggling to catch up.
For Marcin Hejka, managing director of Intel Capital, opportunities abound: "Africa is the new IT frontier with a technology ecosystem set for immediate take-off." The chipmaker's venture capital division is betting that Africa's first multibillion dollar IT multinational will take shape in Kenya. Intel Capital Investment Director Tobi Oke is excited about Savannah Valley and other technology hubs currently under development across Africa: "These offer the right environment for savvy entrepreneurs to attain the critical mass their start-ups require for success."
With about three million inhabitants of whom 74% use mobile phones, and some 5,000 millionaires, Nairobi is well-suited for its new role as Africa's technology hub. Big money is involved as well. Around $15bn is being splashed on Konza Techno City – aka Savannah Valley – 40km to the southeast of Nairobi where it is expected that up to 100,000 IT engineers will be working on next generation mobile technology by 2020.
For the moment Kenya's IT companies flock to Ngong Road, the epic centre of the country's technology industry. Here, 152 companies, employing over 15,000 developers and other techies, have formed iHub which functions as a large incubator for Kenya's IT sector, pushing the country to the forefront in Africa and beyond. Ngong Road and its iHub is the first tangible result of a masterplan devised and implemented in 2006 by then Permanent Secretary Bitange Ndemo of the Ministry of Information and Communication for the rapid development of the IT sector.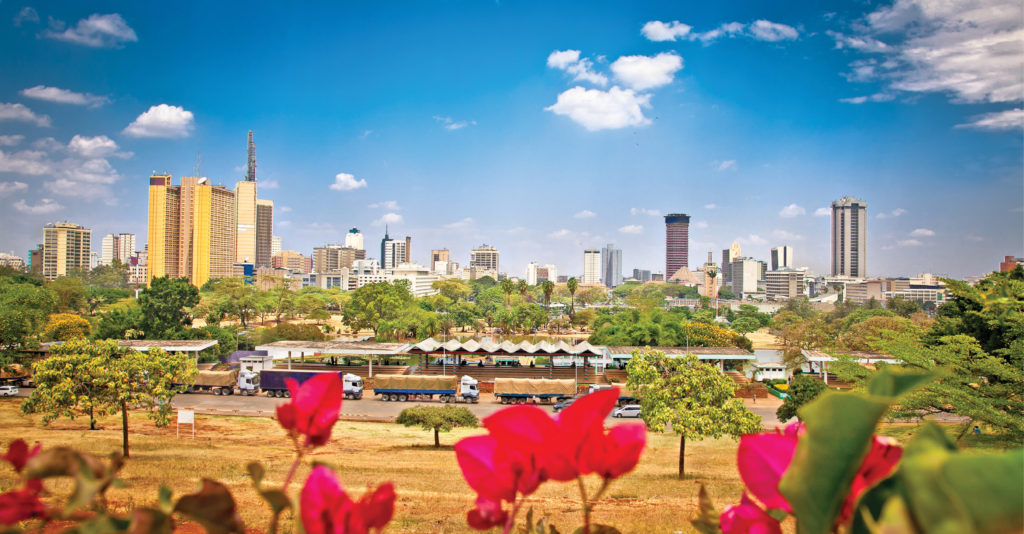 The masterplan is part of the broader Vision 2030 project that aims to propel Kenya to middle-income status. Current Cabinet Secretary for ICT Fred Matiangi thinks the timing is right for yet another leap forward: "The beauty about this government is that we have free political will and leadership from the top that supports the work we are doing. Both government and private sector are moving forward to ensure we create jobs and provide opportunities for the growth of innovation."
Big name companies such as IBM, Facebook, and SAP have taken note and now actively partake in Africa's booming Internet economy, committing their vast resources, and unveiling a growing number of ambitious projects. In Kenya, IBM is building a copy of its famed Watson supercomputer – Project Lucy – for about $100m while SAP has earmarked $500m to introduce some of its latest technology to the continent.
Venture capitalists have discovered Africa as well, alleviating the dearth of seed capital which is considered one of the main stumbling blocks to accelerated tech development. In 2014, McKinsey & Company identified no less than 3,400 tech start-ups in Sub-Saharan Africa with around $400m being made available by venture capitalists. However, only about 2% of start-ups succeed in attracting angel investors. Pundits expect venture capital flows to increase significantly in the coming years, reaching $1bn by 2018.
Most VC action currently takes place in Nigeria with e-commerce portals Jumia and Konga raking in well over $300m to fund their rapid expansion with a view to expand their operations across the continent. Eghosa Omoigui of EchoVC Partners has no doubt that before long some of the continent's IT start-ups may be ripe for IPOs on local exchanges with solid and sustainable revenues: "I wouldn't be surprised at all to see an African tech company obtain a listing on NASDAQ before this decade is out."
Mr Omoigui expects the Kenyan model for success to be replicated elsewhere: "Kenya has shown that a sensible policy framework need not be overly complicated to ensure its success. Governments across the continent are paying much attention, and committing the required resources, to put into place the infrastructure necessary for new IT hubs to flourish." The venture capital provider points to countries such as Ghana, Rwanda, and Nigeria as the next Internet frontiers where the scenery changes fast and becomes more dynamic as it does.