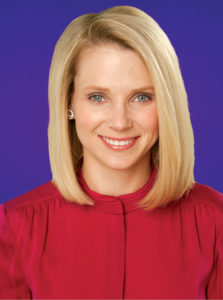 The struggling Internet portal, which in February announced plans to axe 15% of its workforce, was the gateway of choice to the internet for a whole generation of web users.
Once the go-to site for astronomically-priced banner ads, Yahoo! seemed to have the cyber world for the taking. In 1998, Yahoo was the most popular starting point for web searches. But its dramatic downwards spiral from cool to drool has been nothing short of jaw-dropping – for all the wrong reasons.
One look at the cluttered homepage says it all. For users accustomed to the clear white space that you could drive a lorry through on user-friendly Google, Yahoo! assaults the eyes and the senses.
Are they a media company? A search engine? A news site? The problem of course is that they still don't quite know.
After chewing through and spitting out four executives in three years, in 2012 Yahoo! brought in former It Girl of the tech world, Marissa Mayer, as CEO. Mrs Mayer, with no experience in managing a company of any discernible size, predictably made blunders. Under her direction, Yahoo! went on a $3 billion spending spree, but none of the acquisitions yielded significant growth.
Mrs Mayer's early leadership gaffes included ordering home workers to return to the office – a move which generated mixed emotions. Since then, many of her management decisions have come under fire including controversial performance-related job cuts, and her widely criticised "no cuts…this week" comment at a company-wide meeting.
Industry insiders say that Yahoo!'s brain drain problem started back in the 1990s when top software engineers headed to companies like Google where technology was enshrined at the heart of the business, not relegated to a wrap-it-up-at-the-end coding function.
Dr Sami Vihavainen, designer at the UK branch of Finnish IT consultancy Leadin, says that Mrs Mayer should have applied the Five Point Rule she used at Google. "Back in her days at Google, Marissa Mayer would tell designers to count a point for every different font, font size, and colour on a page. If a page goes above five points, it's time to redesign."
For Yahoo!, currently a portal to confusion, it's not so much Don't Cry for Me Argentina as "so share my glory, so share my coffin." Whether it can be resurrected or not, depends entirely on whether the company can take a step back and work out what it really is. Mrs Mayer, of course, would walk away with a large enough multi-million-dollar package to soothe the most ruffled of reputations.