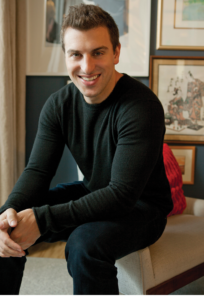 Brian Chesky, CEO of AirBnB, is a champion of the global sharing economy. Proving that there's no place like someone else's home, AirBnB – a website for people to list, find, and rent lodging – has more than two million listings across 191 countries. Its micro-let phenomenon disrupted the standard tourism and hospitality industry, and bagged Mr Chesky a spot on Time's 100 most influential people list and Forbes' America's richest entrepreneurs under 40.
In 2015, the AirBnB chief announced that his firm was official sponsor of the 2016 Olympic Games in Rio de Janeiro, Brazil. And following the April 2016 announcement of the dramatic rise in the tax-free threshold linked to the UK Government's Rent-a-Room Scheme, AirBnB is being hailed as a saviour of the moribund UK property market.
But it has not always been so rosy. Mr Chesky grew up in Niskayun, New York, and graduated from Rhode Island School of Design (RISD) with a degree in industrial design in 2004. Here, he met Joe Gebbia, who later became a co-founder of AirBnB. In October 2007, the pair were living in San Francisco, unemployed, broke, and staring at their rent due date. Inspiration born out of desperation struck when Mr Chesky spotted an international design conference coming to the city. "On the event page it showed all of the nearby hotels were completely sold out," he recalls.
With three inflatable mattresses dragged from a wardrobe, the pair quickly set up airbedandbreakfast.com and successfully let their space – complete with a continental breakfast of untoasted Pop-Tarts. They then spent four months working on a roommate search tool before realising roommates.com had already built this service.
In 2008, Harvard graduate Nathan Blecharczyk became the third co-founder of AirBnB, and the trio impressed their way onto a seed-funding programme run by YCombinator.
AirBnB opened several offices in Europe during its first year and, in 2011, Mr Chesky responded to a complaint about tenant vandalism – announcing a 24-hour hotline, additional staff support, and a guarantee for theft or vandalism.
By March 2015, Airbnb was valued at £13.9 billion. But applause has been far from universal, as the company has fallen foul of city laws including New York's 2011 law against illegal hotels. In 2014, Berlin authorities followed Munich and Hamburg's example and cracked down on unregistered vacation rentals to stem the tide of property owners preferring to rent to tourists at £543 per week instead of to regular tenants for much less.
Meanwhile, new start-ups are riding the waves created by the AirBnB model. Hospitality management website Hostmaker manages AirBnB micro-lets for homeowners – many haven't yet sold their old property and need to enable viewings and also mitigate their property's downtime. Others are simply going on holiday, and want to offset their travel expenses.
The emergence of Hostmaker, and the naming of Brian Chesky as ambassador of Global Entrepreneurship in 2015 by US President Barack Obama, point to a continued rise in fortunes for the unusual and innovative company. Experts say that AirBnB's success is testament to its unrelenting focus on user experience. Brian Chesky et al have certainly managed to alter the landscape of short-term rental accommodation, in a way that meets market demand. It's fun, friendly and cheaper than the alternative – what's not to like?