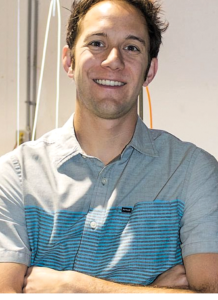 Titan Robotics is based in an anonymous unit just off an interstate in Colorado Springs, tucked behind the Spruce Lodge motel and next door to Boogers, an auto-repair shop. Around 150 years ago, the town was on the frontier of the Old West; the last stage for wagon trains before they tackled the daunting Rocky Mountains.
Appropriately, Colorado Springs today is on the frontier of the next big technological leap – 3D printing. The process has been in development for most of the last decade – with mixed results. First-generation 3D printers were capable of producing plastic widgets of varying quality and durability – expensively. College lecturers turning out conventional industrial modelling graduates were hardly quaking in their boots.
Clay Guillory, an unassuming and unlikely entrepreneur, and CEO of Titan Robotics, might make them rethink. The Colorado-born graduate of Lafayette University, Louisiana, spends every waking hour, and much of his sleeping time, dreaming about the limitless possibilities of 3D printing – and he's bringing those dreams to reality.
"It's generally when I'm sleeping when the best ideas come to my mind," says the 26-year-old who set up the company in 2014. "So I wake up at four in the morning with a solution to a problem I've had all day."
In a very short time, the business has become a world-leader in the development of large-format 3D printers. The key is Titan's ability to print large pieces as a whole, overcoming the weakness of having to glue parts together, which bedevils users of smaller 3D units. Titan Robotics recently unveiled its latest Atlas machine, which retails around the $28,000 mark, at a major conference in Florida, using the occasion to print a copy of a whole dinosaur bone.
"We got tired of seeing low quality 3D printers that break down and fail after a short amount of time," he says: "Our printers will undoubtedly last a lifetime."
The company is currently developing a new generation of printers which can cope with materials other than plastics. Titan, for example, is working on a concrete printer. "You can basically put together an entire house with one machine," says Mr Guillory.
Despite being named among the USA's top 50 disruptors Mr Guillory is still very much a home-town boy. He was pictured in May this year on Titan's Facebook page proudly displaying the award he won as Young Entrepreneur of the Year at the local Pikes Peak SME business event. His father Byron, who gave up his job in insurance to work alongside his son, posted a message which read: "Amazed at the continued growth of Titan. So proud of you!"
The technology being developed by Mr Guillory is already making inroads into traditional industries as diverse as healthcare, agriculture, and automotive design, and manufacturing.
Clay Guillory describes himself as a mechanical engineer by day, and a mechanical engineer by night. He spends all of his free time designing, building, and refining large format 3D printers.
Mr Guillory started Titan Robotics in his garage where he can still usually be found after work. He made headlines last year when, in his spare time, he designed and printed a prosthetic hand for an eight-year-old boy whose mother had contacted him through a charity – a task Clay Guillory happily performed free of charge.
Mr Guillory says his purpose as an engineer is to improve the lives of others. But like many other so-called disruptors who are rewriting the rules of industry, he seems to be having fun. At the moment, for instance, he's helping a local Colorado school print a whole Tyrannosaurus Rex.